"Almonds offer a one-stop solution for overall health with their heart-healthy fats, vitamins, minerals, and antioxidants.

Almonds are a highly nutritious dry fruit known for their health benefits and versatility in snacking and culinary applications. Discover the goodness of almonds and how they can enhance your overall well-being.
Vitamin E: Almonds are particularly rich in vitamin E, which is a powerful antioxidant that helps protect cells from oxidative damage.
Additionally, almonds contain small amounts of other vitamins like vitamin B2 (riboflavin) and vitamin B3 (niacin), although these are not as abundant as vitamin E in almonds.
Certainly, here are five key benefits of almonds:
Heart Health: Almonds are heart-healthy nuts that can help lower bad cholesterol levels, reducing the risk of heart disease.
Nutrient-Rich: They are packed with vitamins, minerals, and antioxidants, including vitamin E, magnesium, and fiber, promoting overall well-being.
Weight Management: Almonds are a satisfying snack that can aid in weight management by curbing appetite and providing sustained energy.
Blood Sugar Control: Consuming almonds may help stabilize blood sugar levels, making them a good choice for individuals with diabetes.
Skin and Hair Health: The vitamin E and antioxidants in almonds contribute to healthier skin and hair, offering a natural beauty boost.
Improve blood flow and Circuation,which can enhance sexual arousal and performance.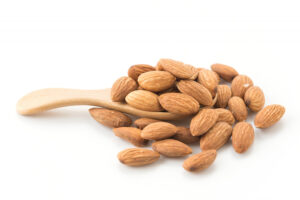 Soaking Almonds Overnight: Soak almonds in water overnight and consume them in the morning. This makes almonds easier to chew and enhances their nutrient absorption.
Plain Almonds: Enjoy almonds as they are for their natural flavor and nutritional benefits.
Almond Milk: Make almond milk by blending soaked almonds and then straining the mixture. You can use almond milk as a dairy substitute.
Almond Paste: You can prepare almond paste by soaking and peeling almonds, then grinding them into a smooth paste. This can be used in various recipes.
In Salads: Add freshly chopped almonds to your salads to enhance both the flavor and nutrition of your salad.
In Baking: Incorporate almonds into baked goods like almond cakes, muffins, or cookies for added texture and flavor.
Almond Oil: Almond oil can be used for skin and hair care. It's a natural moisturizer and can be applied topically.
Conclusion 
Almonds are an excellent source of protein, fiber, and heart-healthy monounsaturated fats, making them an ideal choice for those seeking a satiating and heart-healthy snack. Whether enjoyed plain, roasted, or incorporated into dishes, almonds are a wholesome addition to any diet, offering a tasty and healthful way to nourish the body and satisfy the palate.