Mix Dry Fruits

Dried Delights: Experience the harmonious blend of exotic dry fruits.
Dry fruits are rich in potassium, magnesium, calcium, zinc, phosphorus and various vitamins like vitamin A, D, B6, K1 and E. These nutrients are essential for a healthy immune system. According to a study, dry fruits with high levels of polyphenols help improve immunity by showing anti-inflammatory effects.
Our blend of premium dried fruits is a symphony of flavors and textures. From the sweet chewiness of dates to the nutty crunch of almonds and the tangy zest of apricots, each bite offers a delightful surprise.
Packed with natural goodness and essential nutrients, our mix is the perfect snack for energy and vitality. Whether you're on the go or looking for a healthy treat, savor the richness of nature with every handful.
Indulge in the wholesome goodness of mix dry fruits, a nutritious and delicious snack that satisfies both your taste buds and your health goals. Elevate your snacking experience today!
Mix Dry Fruits Benefits
"Mix dry fruits offer a myriad of health benefits. They are rich in essential vitamins, minerals, and antioxidants, promoting overall well-being. Consuming this blend supports heart health, as it helps reduce cholesterol levels and manage blood pressure. The fiber content aids digestion and assists in maintaining a healthy weight. Moreover, the combination of different fruits provides a variety of flavors and textures, making it a satisfying and nutrient-dense snack choice that can boost energy levels and support a strong immune system."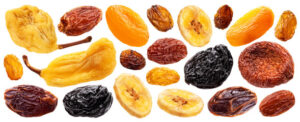 CONCLUSION
Mix Dry Fruits are a powerhouse of nutrients and flavor. Their diverse blend of fruits offers a tantalizing range of tastes and textures, making them a delightful snack choice. Beyond their deliciousness, these fruits pack a nutritional punch, providing essential vitamins, minerals, antioxidants, and dietary fiber. Their consumption can aid in maintaining heart health, supporting digestion, managing weight, and fortifying the immune system. As a versatile and wholesome snack, mix dry fruits are not only a treat for the palate but also a boost for overall well-being, making them a valuable addition to a balanced diet.