These emphasize the natural, healthy, and flavorful aspects of pumpkin seeds as a dry fruit product.
"NutriPep Pumpkin Seeds"
Pumpkin seeds, although often mistaken for nuts, are actually the edible seeds found inside pumpkins. These small, flat seeds are a popular dry fruit due to their rich nutritional profile. They are a good source of protein, healthy fats, fiber, vitamins, and minerals. Pumpkin seeds are commonly enjoyed as a nutritious snack, added to salads, incorporated into baked goods, or used as a topping for various dishes. Their mild, nutty flavor and crunchy texture make them a versatile and wholesome addition to a balanced diet.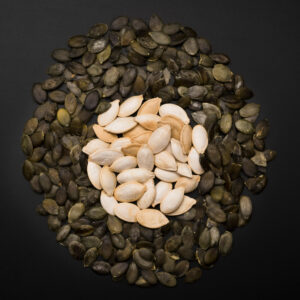 Pumpkin seeds, as a dry fruit, offer several health benefits:
Rich in Nutrients: Pumpkin seeds are a nutrient powerhouse, packed with essential vitamins and minerals like magnesium, zinc, and iron. They are also a good source of protein and healthy fats.
Heart Health: The high magnesium content in pumpkin seeds can help regulate blood pressure and reduce the risk of heart disease. They also contain antioxidants that can contribute to heart health.
Immune Support: Pumpkin seeds contain zinc, which plays a crucial role in immune function. Regular consumption may help boost your immune system.
Mood and Sleep: The seeds are a source of tryptophan, an amino acid that can aid in the production of serotonin, promoting better mood and sleep.
Bone Health: Pumpkin seeds are rich in phosphorus, magnesium, and other minerals that support bone health and may help prevent osteoporosis.
Digestive Health: The fiber in pumpkin seeds can aid in digestion and promote a healthy gut. They may also help with weight management due to their satiating effect.
Antioxidants: These seeds contain antioxidants like carotenoids and vitamin E, which can help protect cells from oxidative damage.
Prostate Health: Some studies suggest that the compounds in pumpkin seeds may support prostate health and reduce the risk of prostate-related issues.
Skin and Hair: The zinc and essential fatty acids in pumpkin seeds are beneficial for maintaining healthy skin and hair.
Diabetes Management: Pumpkin seeds may help regulate blood sugar levels due to their high magnesium content and potential to improve insulin regulation.
It's important to consume pumpkin seeds in moderation as part of a balanced diet to maximize their health benefits. You can enjoy them as a snack, sprinkle them on salads, incorporate them into smoothies, or use them as a topping for various dishes.
conclusion
Pumpkin seeds, often considered a type of dry fruit, offer a wide range of health benefits. These nutrient-rich seeds are packed with vitamins, minerals, and antioxidants that can support heart health, immune function, bone health, and more. Incorporating pumpkin seeds into your diet as a snack or ingredient in various dishes can be a tasty and nutritious way to enjoy their advantages. However, as with any food, it's essential to consume them in moderation as part of a balanced diet to reap the maximum benefits.